2018 SPONSORSHIP INFORMATION
Blacktown Rugby Union Football Club ("BRUFC") is Blacktown's premier senior rugby Club. With 40 years of history, BRUFC are well known to the local business community and its residents.
Sponsors are an integral part of our Club's success on and off the field. Our Club is able to provide its sponsors with a range of promotional, branding and marketing benefits. BRUFC are excited to announce the 2018 sponsorship packages below. We are confident that you will be able to select the appropriate sponsorship opportunity that will meet your corporate objectives.
**note all sponsorship pricing is available upon enquiry and our Club is happy to meet with you to discuss your needs.  For further information contact Duke Wolfgramm on 0410 452 678 or via email: admin@blacktownrugby.com.au.
Alternatively you can scroll to the bottom of this page and fill in our online query form.  All enquiries are precious to us and will be responded to within 48hours**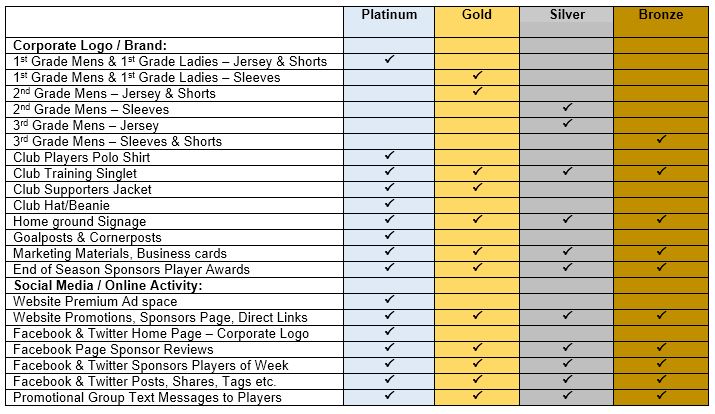 Our Platinum Sponsor's corporate logo will be featured on the back of all Club jerseys. Our Gold and Silver Sponsors' logos will feature on the front and lower back of their respective sponsored grades.
BRUFC are also open to a variety of payment structures, including payment by instalments or a combination of payments and account credit with your business.
BRUFC welcome any expressions of interest or enquiries about becoming a Club sponsor. The sponsorship of our Club is an investment in the future success of your business. The benefits of BRUFC's promotional and marketing efforts will boost awareness of your brand and business in the Blacktown and Greater Western Sydney areas.  We also hold a Sponsors night where prospective sponsors, current sponsors can network and build contacts and referrals.
BRUFC understands that the key to the continued success of many businesses is to engage with and be part of the local community. BRUFC will gladly partner with your business in order to achieve this objective.
DONATIONS

If the sponsorship levels don't suit your needs, why not provide a one-off donation to BRUFC. Our Club would gladly accept donations from $250 to assist with our operational costs and expenses. Every donation will be promoted on our Club website and our social media pages which is a great way to advertise your business.
For all sponsorship enquiries please contact BRUFC Committee member Duke Wolfgramm on 0410 452 678 or via email: admin@blacktownrugby.com.au
Yours Faithfully
BRUFC COMMITTEE